The plane attacks ten years ago in New York and Washington were related to architecture in more than the obvious way. They were attacks on symbolic buildings, led by a trained architect, funded indirectly by the bin Ladin construction empire. The hawks masterminding the follow-up invasions of Iraq and Afghanistan were eventually labelled "architects of war" by the media. A year later, in New York, the good architects had risen, and with a bit of coordination and promotion by the New York Times and Muschamp, denounced the six development-parcel proposals from the Lower Manhattan Development Corporation.

"In June, a group of New York architects met to discuss their dissatisfaction with the planning process unfolding under the auspices of the Lower Manhattan Development Corporation, the state agency created to supervise the rebuilding of ground zero and the financial district. The group included Richard Meier, Steven Holl, Peter Eisenman, Charles Gwathmey and Guy Nordenson, a structural engineer." NYT 08/09/02
Daniel Libeskind won the design competition hastily organised by the LMDC, but by 2004 he had
lost control
of the Freedom Tower design to S.O.M. and was
battling his client
in court over $800,000 in fees.
The Memorials
Michael Arad's
911 Memorial
at the site of the World trade Center was dedicated on the 11th. Two sunken pools occupy the approximate footprints of the twin towers, with the
names
of the dead etched into the surrounding plinths. Names have been painstakingly grouped to allow people with any sort of connection to be adjacent.
A
memorial
to the passengers and crew of United Airlines Flight 93 was also held on the 11th. The
Paul Murdoch
design will, when complete, trace the line of the plane as it crashed into a Pennsylvania field en route to the U.S. Capitol.
"Timeless in simplicity and beauty, like its landscape, both stark and serene, the Memorial should be quiet in reverence, yet powerful in form, a place both solemn and uplifting." Paul Murdoch
Mindrelic - Manhattan in motion
from
Mindrelic
on
Vimeo
.
New york is alive and buzzing in 2011, though its wounds will take decades to heal. The following invasions of Iraq and Afganistan, the bombings in Madrid, London, and Bali, and the impact of escalated security in the public realm have changed our lives.
George Bush II flailed out and sent soldiers to places they should not have gone to solve problems that weren't there, at what would prove to be great expense to life and wallet. There was little public reaction from architects in Australia, in contrast to the
Brits
who took out a large ad in The Independent. It was in this climate that Architects for Peace was founded. How have the events of ten years ago affected you?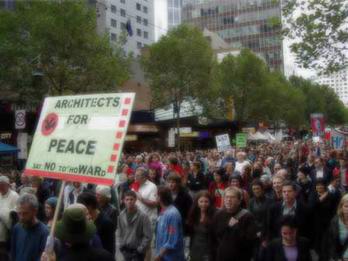 First Arch-peace banner, Iraq rally February 2003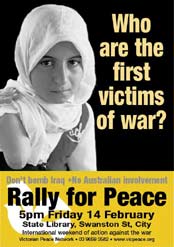 First Arch-peace banner, Iraq rally February 2003
[ This post is a revised version of one I posted at butterpaper.com on September 11th. ]